Our Chiropractic Techniques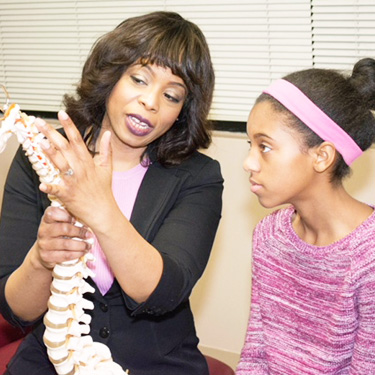 We use a number of highly-effective adjusting approaches to help improve spinal biomechanics and reduce nervous system interference. The approach we use is based on our clinical judgment and years of experience.
The primary adjusting techniques we use include:
Activator Methods®
This is a system of spinal evaluation combined with a handheld adjusting instrument that delivers a consistent, low-force thrust.
Acupuncture
The perfect adjunct to your chiropractic care, we use acupuncture for meridian balance, symptom relief and many organic health complaints.
Cox Flexion-Distraction
We use a special table so we can traction your spine, opening up the spacing between spinal vertebrae and relieving pressure to spinal.
Diversified
After identifying which vertebrae have lost their normal motion or position, a specific manual thrust is applied to free up "stuck" spinal joints.
Electrical Muscle Stimulation
We use this special type of low level electrical current to stimulate supporting muscles of your spine, reducing inflammation and spasm.
Extremities
While many health problems can be traced to the spine, wrists, elbows, shoulders and knees, other joints of the body can be helped.
Massage Therapy
Working hand in glove with chiropractic, therapeutic massage can improve muscle tone and help make lasting changes to the spine. Plus it feels great!
Motion Palpation
As you turn and bend we'll apply a light pressure to the joint being tested with our fingertips to feel how well things are moving.
Myofascial Release
We'll find tender areas where muscles and connective tissue are producing pain and restricted movement and gently release it.
Thompson
Thompson Terminal Point technique is a system of analysis and a special table that reduces the amount of energy needed to adjust your spine.
Trigger Point
By applying direct pressure or stretching of the affected muscle, we can reduce muscle spasms and flush out pooled blood and accumulated toxins.
Ultrasound
This high-tech deep tissue "micro-massage" helps reduce swelling, increase blood flow, decrease pain, reduce joint stiffness and stimulate cell-repair.
Webster
By releasing the stress on a pregnant woman's pelvis, the uterus and surrounding ligaments relax, permitting pregnant mothers the best conditions for an easier and safer delivery for the birth of their child.
Request an Appointment
If you've been to a chiropractor before and prefer to be adjusted in a particular way, let us know. We want you to relax, enjoy and fully benefit from your chiropractic care.
CONTACT US
---
April J. Miller, D.C. | (708) 856-8056